I've been really intimidated by the idea of putting holes in my one beautiful wallpapered wall in our home, and even more so by the idea of finding the perfect art to layer with it! Pairing art and wallpaper is one of those things that requires professionals and second opinions. It ain't easy!
So, I decided to dig into the depths of the internet to find some examples that I really love. The best part is most of these are super easy to replicate: In most cases, I found the exact wallpaper and in some cases the art! Now I just need to bite the bullet and do my own room!
Cole & Son's 'Palm Leaves'
with one of Jaime Derringer's infamous black and white abstracts is a wallpaper and art match made in heaven. The graphic nature of both work so well because while one is busy, the other is simple, and the contrast – as well as scale – is key! They also both have a modernist vibe that helps bring the two together. I love this for a living room or bedroom.
And speaking of contrasts… 
Jenny Andrews Anderson's 'bowls' series
looks pretty fantastic layered on top of a medium-scale floral print like '
Magnolia Blossoms
' from Anthropologie. The softness of the florals compliments the abstract graphic nature of the artwork! The key here is a little continuity in color palette – but without being too matchy. The above image happens to be in a dining room, where this pairing feels unexpected and playful!
It's always a good idea to mix traditional with non-traditional. Taking your grandmother's wallpaper and pairing it with tasteful nude sketches? Definitely a good idea. The classic Colefax & Fowler 'Casimir' pattern pairs nicely with one of many nudes from the Etsy shop Frenchy Gallery – a great source for these sketches. But if nudes aren't your thing, don't worry. The content is not so key here as the style. Any kind of sketch or even architectural rendering would work in keeping things simple while layering on a busier classic pattern like this one.
I fell in love with
this wallpaper
  the second I saw it. There's something so natural and organic about the way it flows, and the leaves feel unexpected in blue too! Walls like these are a bit easier to layer on, but I love the tonal approach that was taken here. Art in shades of blue of faded black and white, like this
'Cool Summer'
print on Minted. This matchup would go well anywhere in the house, but the scale of the wallpaper lends itself nicely to a larger room.
While the blue leafy wallpaper was a more organic approach, here we see black and white going a more graphic direction! The art is even laid out in a more structured way. Geometric wallpaper
like this pattern
 can often make things easier when it comes to layering, so the obvious choice is to borrow from this inspiration with plenty of black and white art pieces. However, I love the addition of something a little softer like
this mask print
to balance it all out.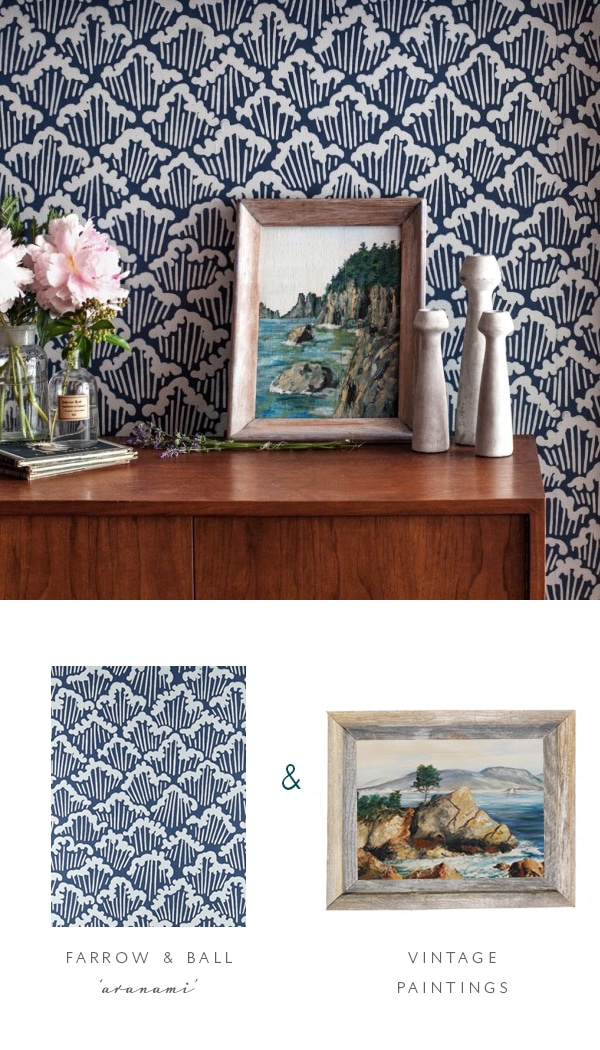 This pairing might be one of my favorite – it feels very Pacific Northwest to me!
Farrow & Ball's 'Aranami'
is one pattern I never tire of, and I love this abstract, Japanese style wave paired with a
vintage seascape
. I love finding old paintings like these to frame up and place around the house, actually! As if they've been there forever.
You can always count on Justina Blakeney to bring the boho, and this pairing in her dining room is a total win in my book. Her
'Aja' wallpaper
in aubergine builds a beautiful backdrop to a dramatic portrait like this one from
Parastoo Pakzad
. I love this print as an alternate to the more traditional palm like the first room we showed here.
Sidenote, Saatchi is by far one of the best places to search for original art online.