Last night I sat on the cozy sofa of my newly decorated living room, typing this post up, grateful for a few things: My home. My family. My community. And my proximity to the Canadian border.
Not to get political here, but I will fully admit that it does seem a bit anticlimactic to be revealing a living room makeover after what felt like an epically long Presidential Election. But, if there is one thing I know about myself it's this: My mental health is a direct result of the spaces I inhabit, and right now my mental health is going to need all the help it can get. And guess what? This room makes me HAPPY. And calm. And grateful.
So, whatever your mental state is at the moment, (some, I suspect, are celebrating, while others are most definitely not), I hope you can find some inspiration and motivation to create your own oasis like we have…
Before you dive into the massive amounts of photos below (sorry, not sorry), you may want to hop over to our very first post to see how far we came from the before to the after. In fact, when I went back to that first post, I realized how truly similar this room is to some of our inspiration rooms!
I wanted light, airy, lots of natural wood, brass accents, cozy furnishings, and a room that would be practical but welcoming for our family and guests. What do you think? Did we nail it?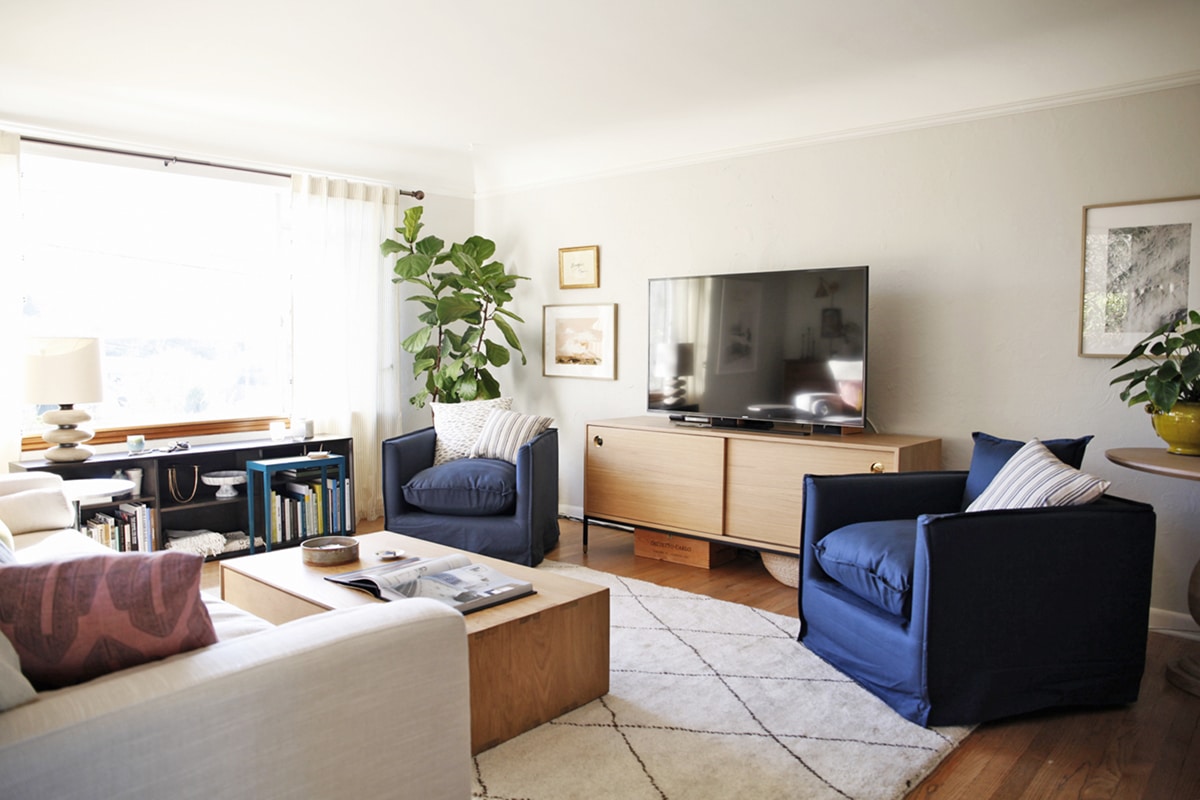 Designing around the HUGE television was not fun when it came to art and furniture placement, but we managed. We took out dark, bulky storage, and brought in some lighter, leaner pieces.
Another conscious choice made was low seating to create the look of height in the room. Our ceilings aren't the lowest, but they aren't the highest either. Placement of art, drapes, everything was really intentional.
Let's talk about lighting for a sec. With no overhead light, I knew I wanted to bring in waaaaay more lighting into the space. Two table lamps, one floor lamp, and two sconces later… bingo. I love the soft ambience it all brings to the room!
The sconces
make the biggest impact since there was no real light coming from the back of the room behind the sofa. They also provided some definition to that area of the room which was really just wasted space before.
Artwork also helped define and fill in all those awkward corner spaces. I love the pieces we got from Minted (all framed, and ready to hang!) – all the sources are listed at the bottom of the post if you're interested in a specific print!
And then there was the entryway! I may have gotten in over my head thinking I was going to totally makeover this space, but I few small updates did make a nice difference. I found some affordable storage at Ikea that provided some doors to hide all those shoes, and feel a lot more streamlined than that bench.
Many of you had suggested moving the sofa around to be more welcoming of people coming into the house, but honestly, I kind of like the way this placement creates a 'hallway' between the window and the sofa…
To the left, as you walk in, we put in a slim console table for key and mail dropping. Keeping the space small means we can't clutter it up!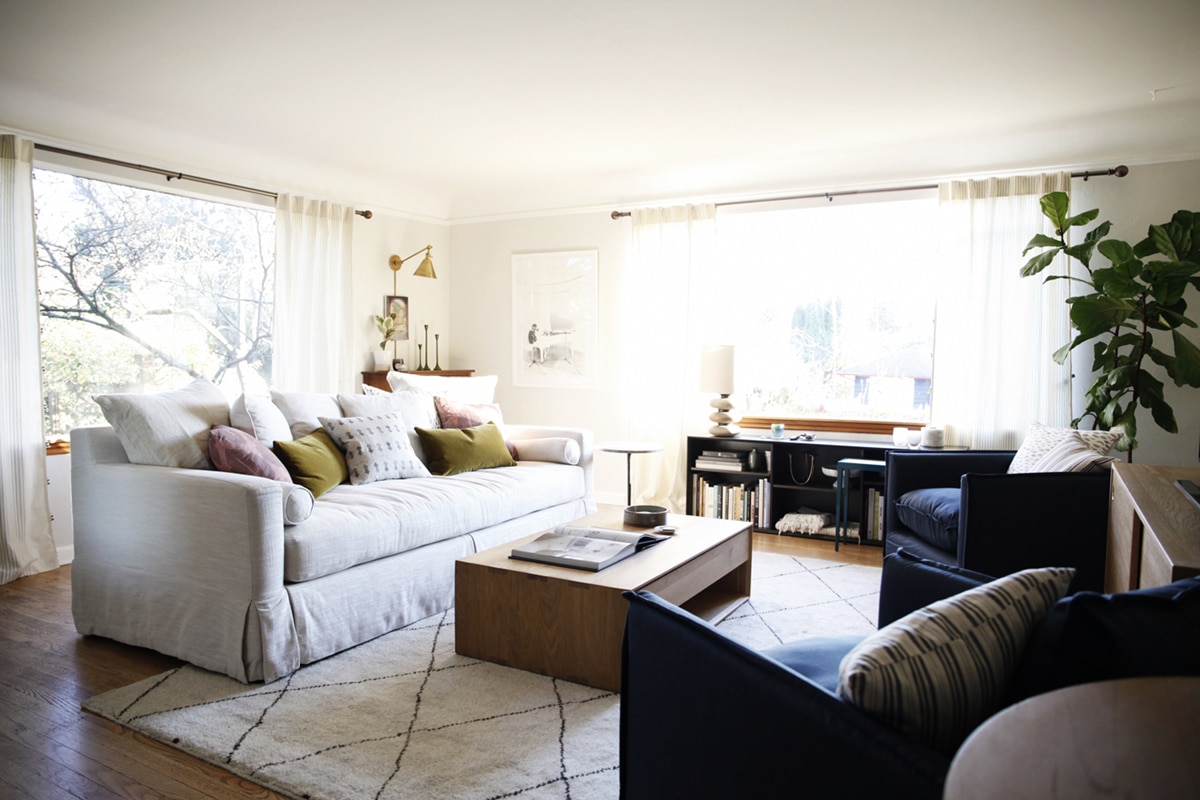 I almost forgot to mention the biggest game changers: the rug and pillows! The second we got in our big Annie Selke Dash & Albert rug (it's insanely soft) it added so much to the space. It really helped lighten things up and break up all the wood.
Adding a little color to very neutral palette was important to me, and I've been really loving mauve and olive right now. The Susan Connor Taza cushions paired with those olive green velvet pillows totally did it for me. I mixed in the petal pillow from Rebecca Atwood in both the sofa and on the chairs too.
The paint color for the walls (since so many of you have asked!) is Valspar New York Winter and it's the perfect floaty grey. A nice alternative to white that still feels light and airy!
A huge huge HUGE thanks to all the ORC sponsors without whom, we wouldn't have a room! I've listed all the sources for every item below, but if you have questions about anything, please let me know. I'm so grateful to have this space to come home to every day now. I've already been thinking about which corner we'll put our Christmas tree in this holiday season, and of course I can't wait to host our friends and family in this cozy room.
Now it's time for the best part – to see what all the other bloggers have come up with for their reveals! I'll be hopping around with you!
Jana Bek | Chris Loves Julia | Shannon Claire | The Curated House
Driven by Décor | The English Room | From the Right Bank | Sherry Hart
Hi Sugarplum | House of Jade | Hunted Interior | The Makerista | Making it Lovely
Marcus Design | Pencil & Paper Co. | Megan Pflug | Place of My Taste | Suburban B's
Waiting on Martha | Media Partner House Beautiful | TM by CIH