Today is big because, my friends, I have joined the ranks of some of the most awesome design bloggers around as a part of the One Room Challenge. Not familiar? Here's a quick summary:
20 bloggers take on the challenge of making over one room over the course of six weeks. We'll each be blogging our progress and sharing our updates with you every Wednesday! This couldn't have come at a better time for me, having just moved into my boyfriend's house and at a total loss as to where to start with the redecorating. So he and I sat down and decided that the dining room would be the perfect space for us to ease into the melding of our tastes…
And here it is. Confession: when I saw J's house for the first time, more than anything in the entire home I knew that this god-awful chandelier had its days numbered. I cannot wait to tear it down – and neither can he.
Our plans for this room are hardly extreme, but you know what is? Designing with your boyfriend.  As any of you know who have the pleasure of living with another human being, designing with two people is not easy. So, on top of blogging about my challenges with this room, I'm also going to be talking about the compromises we've made as a couple when putting this space together. The first one being the dining table.
You may recall that I have a really really gorgeous marble dining table just waiting to be put to use. Unfortunately, we also have this beautiful wood table. The aesthetics are totally different. I want the marble. He wants to keep his wood. I'm attempting to work with it.
In the meantime, I'm selecting items that should technically work with both so that we can decide later which table we're going with! So, keep all that in mind.
Everything else in the room, however? It's all going! The dining chairs will be sold (they're really nice but too matchy for my style), the walls will be painted a shade of blue/grey, the rug, console and shades will all be replaced, and we're going to have a hay day with some art in here!
The vibe? So glad you asked.
This is the color inspiration we started with – a nice rich blue that's saturated but a bit more grey. The room never gets strong direct light, so it can take a darker color nicely.
The style? Well, that's a little more tricky. I like to take risks in a room – not in every piece, but in one or two. J is a bit more traditional. He likes unique styles, but nothing too crazy or fussy. We both like global design – pieces that remind us of places we've traveled – and a layered cozy vibe.
If it were up to me, I'd probably be painting the walls white and going for something a bit more sparse – like this setting – but it still reflects a few elements I'm going for. I love the woven chairs for a bit of texture, and dark bronze accents to go with the hardware in the house. I'll be adding my own bit of greenery to liven the space up, I'm sure. Oh, and huge art.
Ironically, Kate from Wit + Delight's home layout is almost the exact same as ours here, so this room is serving as more simple, refined inspiration as well. Here's what I'd be doing in my dream world…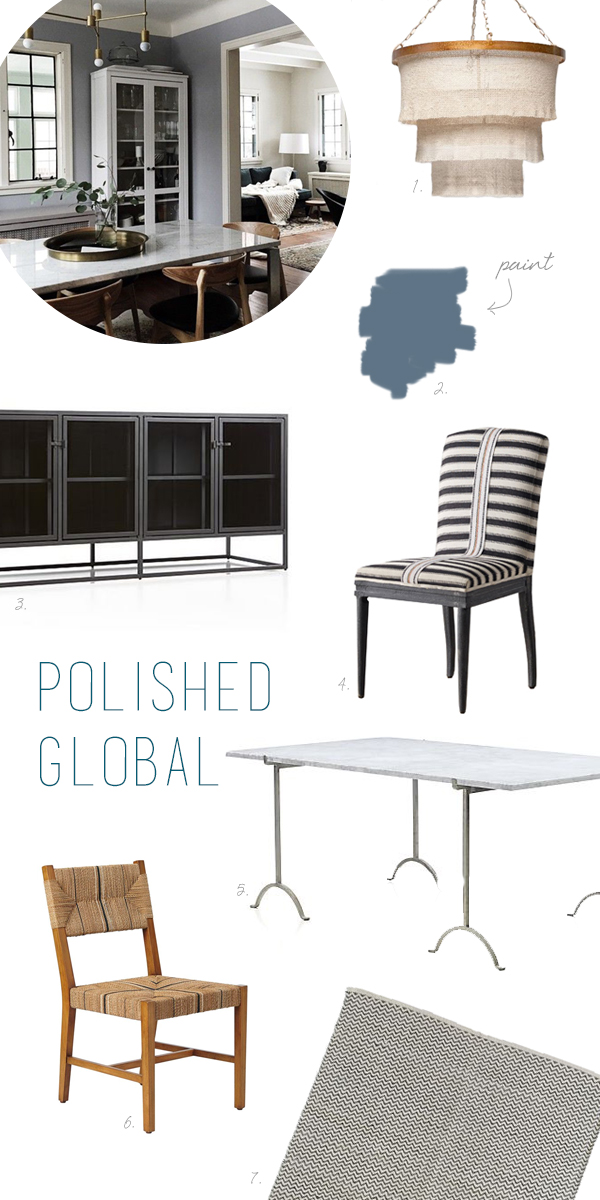 1. coco bead chandelier // 2. valspar 'folk blue' paint // 3. metal side board // 4. striped fabric dining chair // 5. crate & barrel marble dining table (no longer available) // 6. woven dining chair  // 7. textured chevron rug
My two 'statement' pieces would be the striped fabric dining chairs that I'd use to flank each end of the table, and (of course) the coco bead tiered chandelier that adds a bit of organic glamour. I'm all about visual texture which a lot of these pieces lend to the room. We haven't even talked about art, but I'll save that for a whole other post!
Next week, we'll really get into it with some major updates on the room (paint!) and more plans. Plus, more drama between the boy and I as we battle it out over the dining room table…
In the meantime… give yourself something to look forward to every Wednesday for the next 6 weeks and check out the other bloggers participating in the challenge! Some people do some seriously amazing makeovers, so bookmark your favorites to follow along!
Jana Bek * Autumn Clemons * The English Room * Vanessa Francis * Greige Design * Hi Sugarplum * I Heart Organizing * Jenna Sue Design * Stephanie Kraus * The Pursuit of Style * Julia Ryan * Savvy Home  * Simple Details * Simply Grove * 6th Street Design * Jill Sorensen * Swoon Worthy * Waiting on Martha * Kimberly Schlegel Whitman
images :: archilovers // commune design // emily henderson // wit & delight
The One Room Challenge is Trademarked by Calling it Home