There's no denying I have a love for Mediterranean homes, and this one is no exception. But this townhouse in Mallorca has another visual advantage: It was built by Parisian architects in 1896, who brought in elements like stained glass and other details from all over the world to create a truly unique space. Recently renovated by Berrow Projects, the home has been brought back to life – and into the modern world – with updates that enhance and respect its history.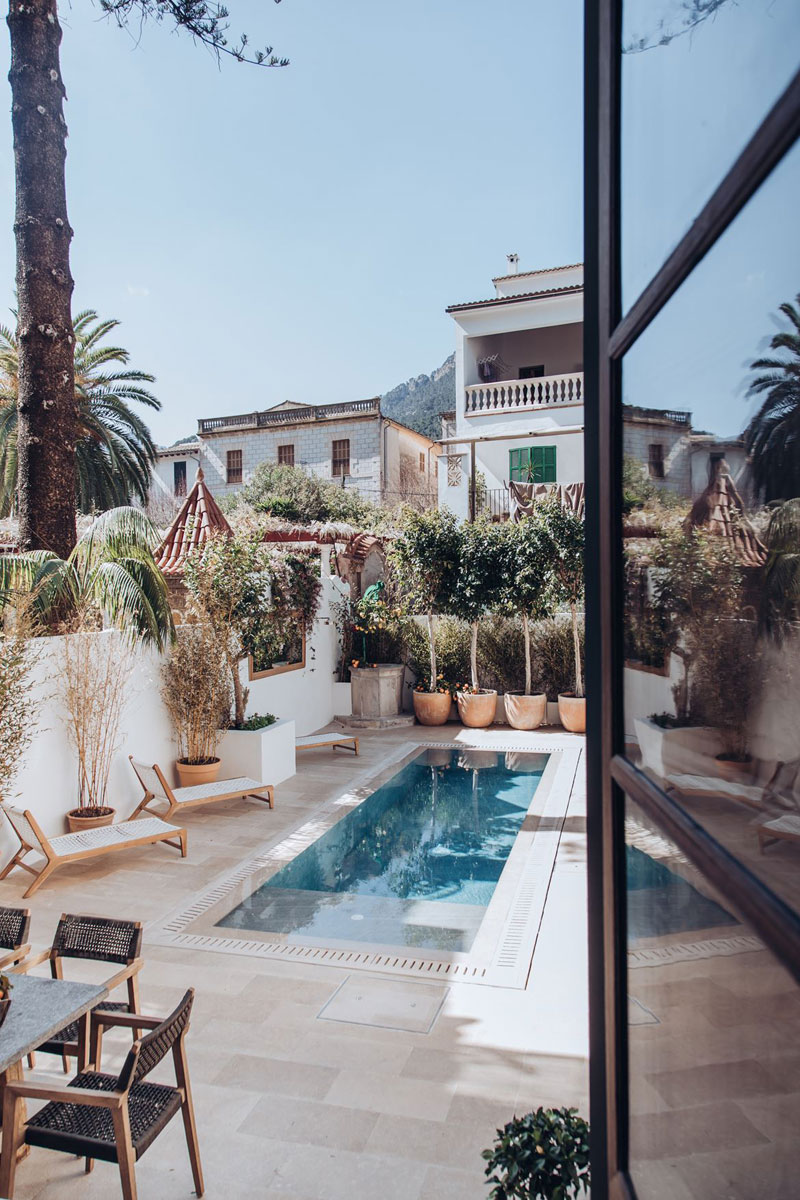 With our temperatures nearing 95 degrees today, I can't tell you how good that pool looks right about now! Bonus: it's heated with solar power. While many elements like the interior tile floors, original wood beams and doors were preserved, the space was also updated with all the modern – and eco conscious – amenities one could ask for.
In the main floor, the ceilings soar, and let in so much beautiful natural light! I love the use of so many natural materials and textures in all the spaces, but especially in here.
Up a quick half flight of stairs lays the living room. I cannot get over the combination of all these gorgeous tiles, or all the natural wood in the windows and doors!
I love how there are so many little balconies and areas that lead outside in this home. That seamless indoor/outdoor living is one of my favorite aspects of homes built in climates like these. And the outdoor spaces really offer a variety of areas to enjoy, too!
Up on the top floor, the master bedroom is expansive, with a huge soaking tub, separate sitting room, and balcony that stretches out over the courtyard and offers up a view of the mountains. I don't always love when the bath sits in with the master bedroom, but I really do love it here. It feels separate but intimate – a welcome accent to the space.
The remainder of the home boasts four more bedrooms. Plenty of space for friends and visitors, as I imagine if you own this home you'll have many. 
All I know is if this were my place, I'd be lounging right here, a glass of vino verde in hand!