It's not too often you see a modern farmhouse also take on tropical, bohemian, Moroccan, shaker, nautical, European and rustic style all at once. It's also not often that you see a designer pull it off as well as Jennifer Bunsa did with this home that transitions so well from room to room while maintaining a massively eclectic aesthetic.
While the architecture of the home definitely screams 'farmhouse' with stone walls and big old wood beams, the interior is quite a bit more imaginative than that. Let's start where all good things start: The Kitchen.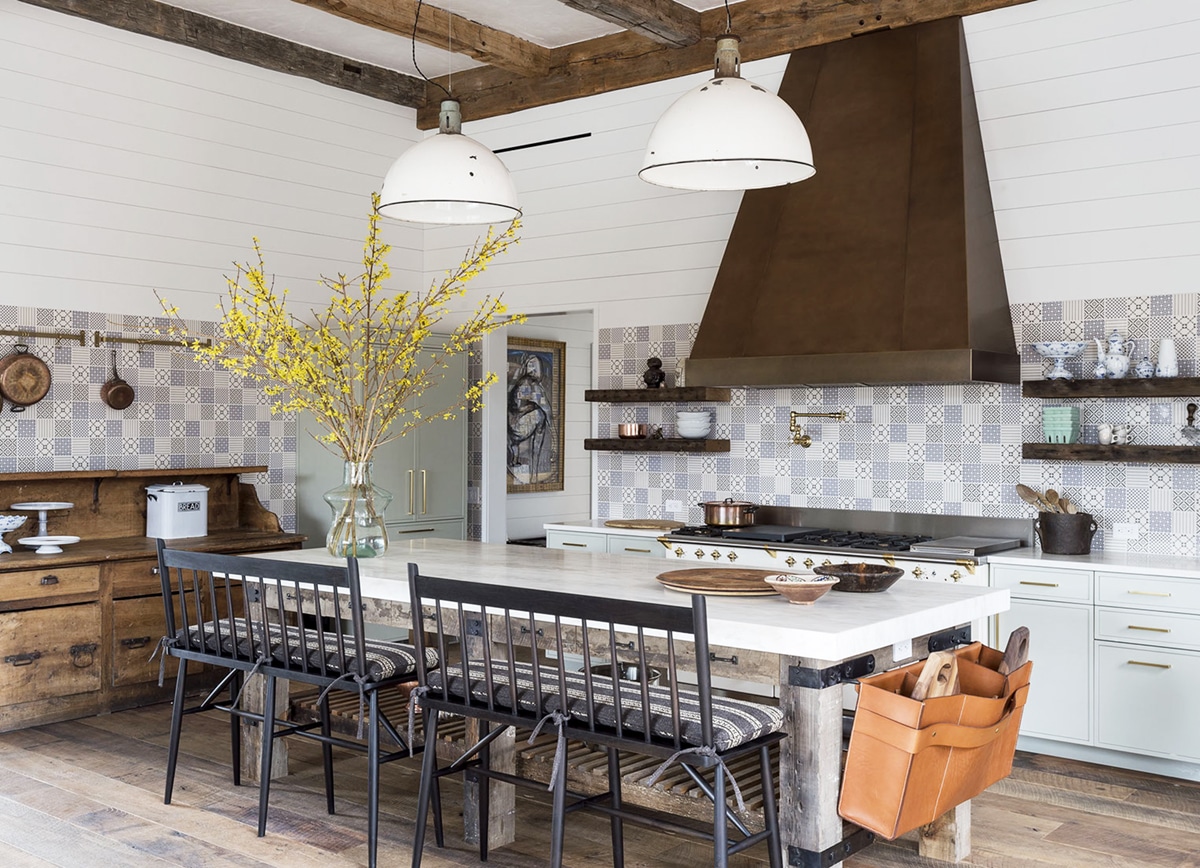 That island is impressive. I would make so many amazing dinners if I had this much space to whip things up!
Who would have guessed that mint green cabinets with brass pulls could feel right at home along antique wood buffets, windsor style bench seats, industrial pendants, and tile that looks like it's out of Portugal (or Scandinavia?). Love that big saddle bag holding cutting boards! Such a unique detail.
Directly behind the kitchen lays the dining room where my favorite feature is this nautical rope chandelier. The knots and aqua baubles make for such a fun statement moment paired with classic shaker chairs painted in a deep green. When you think about the fact that that aqua is in the sightline of the kitchen, suddenly those mint green cabinets start to make sense!
The side door here leads to a lovely sunporch that emits a farmhouse-meets-Scandi-boho appeal. For the record, I think Scandi-Boho is my new favorite idea for interiors.
This house goes on for daaaaaays. So, let's continue to the living rooms (there are so many I didn't even feature them all in this post). 
The main living space is my favorite – I love this asymmetrical fireplace! The old wood beams that are throughout the space feel especially prominent here. They create such a cozy vibe. The furnishings in the living rooms definitely have a mid-century modern slant, but there is a mix of antiques as well that keeps things flowing.
Bet you didn't expect to see a huge macrame wall hanging snuck in there!
Lest you think that maybe they skimped on spaces such as this utility room, the answer would be nope. In fact, this may be my new favorite utility space and now I want to tile the crap out of mine.
Part of the trick to all of these rooms flowing so well together is the repeat use of materials.  You can tell that this was all remodeled or built at the same time because the same shiplap and wall finishes are throughout the home, and the tile is also prominent in areas throughout. And, even though the styles may be different, the palette stays mostly the same.
Moving on to the private areas of the home, this bedroom is pretty divine. It looks like it may be a bit small, but across from it sits a lovely clawfoot tub. The square footage in the master bathroom, however, is pretty impressive.
There's plenty of space for an old hutch to act as storage, a large picture window, and that same mix of modern lighting with a black antique mirror mimics the bedroom style. To the left, that doorway leads to heaven:
An incredibly stunning little shower  with built-in nook done in amazing tiles, and brass hardware to top it all off. Like I said – HEAVEN.
Of course, this wouldn't be a bad runner up spot to lounge for a while either. So, what do you think? Could you take on this coordinated, eclectic style? I would have pretty much zero problem with it.
Here are just a few pieces that can lend to getting the look yourself! Of course, the farmhouse charm is sold separately.
1. industrial pendant | 2. hand painted tile | 3. rattan side table | 4. black windsor dining chair | 5. modern sconce | 6. antique style mirror | 7. leather sofa