A traditional, round wreath does not necessarily have to scream "Hello Holidays!" While we love simple fresh greens as much as the next house down the street, we've created a beautiful, alternative wreath that can be kept simple or festive with a few easy additions.
Our 'Winter Woodland' wreath looks like it was foraged from the forest (with the exception of those roses!) and we love how the addition of the miniature florals makes it feel so fresh! The best part? It will dry out nicely too.
A plain, vine circle wreath like these ones pictured can be bought at your local craft store, or even ordered online. These are great because if you're someone who likes to make seasonal wreaths year-round, you can easily reuse them!
These wreaths also do most of the work for you, and who doesn't love that?!?
Using the natural gaps in the dried grape vine, I start weaving in my cedar branches. Wanting this wreath to have an asymmetrical design, I chose a 'center' in the lower left hand corner, and am going to design around that being the focal point.
I next added in some olive branches, still weaving into the vines, and then some seeded bay leaf branches. At this point, you could add more greens for thickness, or simply be done if you're a simple kind of gal. Of course… we're of the 'more is more!' mindset when it comes to flowers, so we didn't stop there!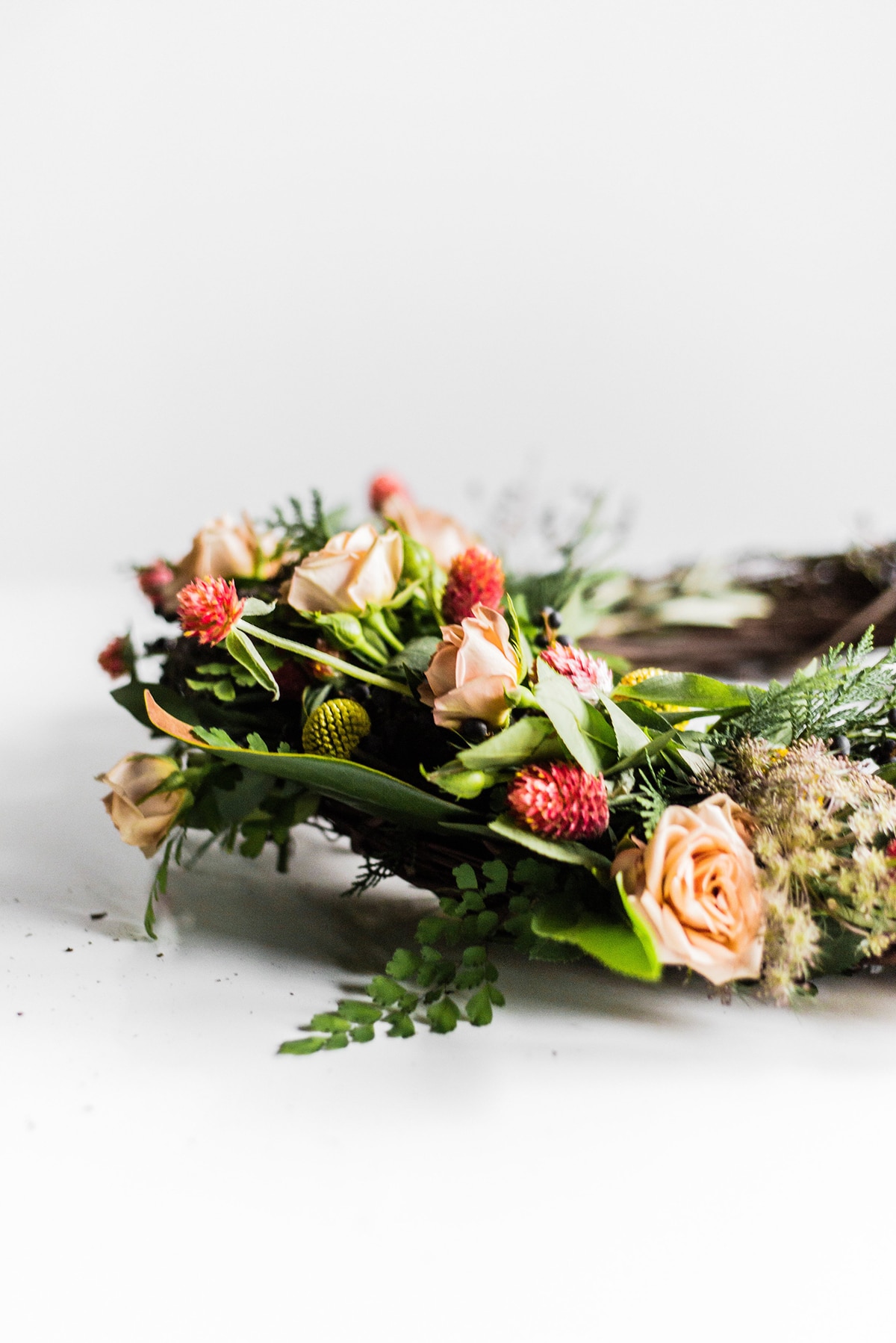 Gomphrena (the orange flowers), crespedia (the yellow balls), maidenhair fern and taupe spray roses were all fresh floral that would also dry nicely, which is to be kept in mind when making wreaths. Just like you did with the greens, intertwine these stems into the vine base.
Make sure to let them breathe and 'grow' out of the wreath a bit!
We chose a satin taupe ribbon to add a bit of richness, and additionally wired some gold wire throughout for a little more festive whimsy and texture. If you'd like to go even more in this route, battery LED light strands or tinsel could really do the job!