Rhubarb is always a spring and summer favorite for desserts and drinks, but did you know you can also use rhubarb in savory dishes?
I married the sharp crunch of raw rhubarb with the sweetness of orange juice and honey and then used it as a topping for smooth and salty goat's cheese. The result is a flavor explosion on the tongue, crostini bursting with springtime prettiness, and an intriguing conversation starter for your next party.
Rhubarb Orange & Thyme Crostini // Makes 15-20 Active time: 15 minutes. Total time: 6 hours and 35 minutes (including marinating and baking time).
Ingredients:
1 small baguette
2 tablespoons olive oil
Approximately 4 sticks fresh rhubarb
2-3 scallions
3 tablespoons olive oil
1 orange, juiced
1-2 teaspoons honey
1 tablespoon thyme leavesSea salt and pepper
A couple of handfuls baby arugula or baby spinach
1x 8 oz log of creamy goat's cheese
2 tablespoons cream, half and half or milk
Fresh thyme leaves to garnish
Preheat oven to 350 F. Cut the baguette into half inch slices and brush both sides with the oil. Arrange the baguette slices on a baking sheet baking sheets.
Bake until crisp and golden on both sides, 15 to 20 minutes, turning once. Cool on wire racks.
Trim the rhubarb sticks and then quarter them lengthwise before chopping them into small dice. Thinly slice the scallions, including plenty of the pretty green tops.
In a bowl stir together the olive oil, orange juice, honey, thyme leaves and salt and pepper, and then stir in the rhubarb and scallions. Cover with plastic wrap and leave in the fridge for at least 6 hours or overnight.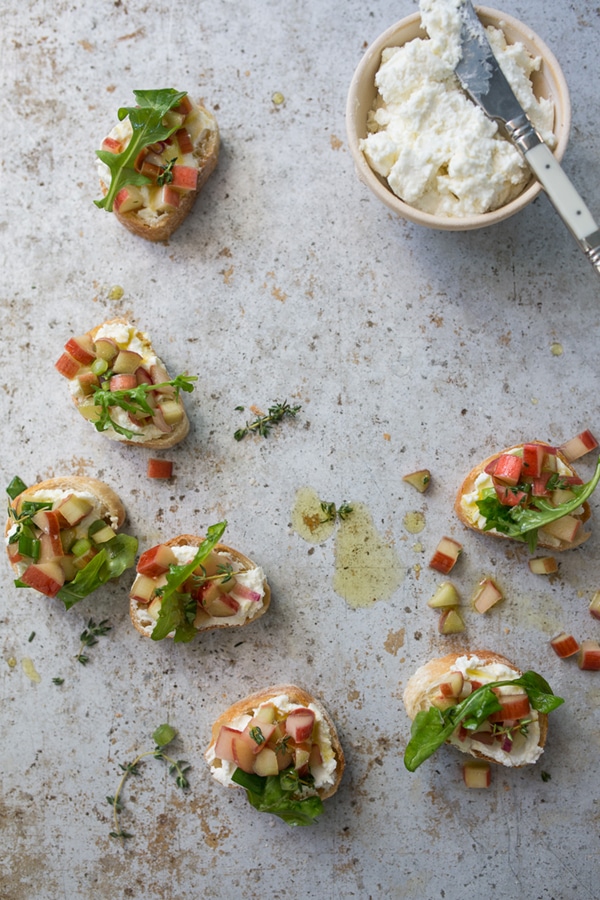 Place the goat's cheese in a bowl and beat in the cream, half and half or milk until smooth and spreadable. Stir the arugula or spinach into the rhubarb, and spread each of the cooled crostini with the goat cheese mix and top each one with 1-2 teaspoons of the rhubarb mix. Sprinkle with a few fresh thyme leaves to finish. Enjoy (and impress!) with friends!
Recipe & Photography by Paola Thomas for coco+kelley.