For the first time in my life, I have a rooftop deck to enjoy sunny days on. For years, I haven't even had a little patio or patch of grass to call my own, so you better believe I'm excited to spend hours enjoying my city views and barbecues and many many evenings of entertaining up in my own little slice of heaven…
Of course, one cannot entertain without a proper dining table… chairs… and a beautiful tabletop setting all from the Paola Navone collection for Crate & Barrel…
I love the whimsy and the Mediterranean flair that Paola injects into her designs. She plays with shape and scale so beautifully, but leaves it all feeling really fun at the same time…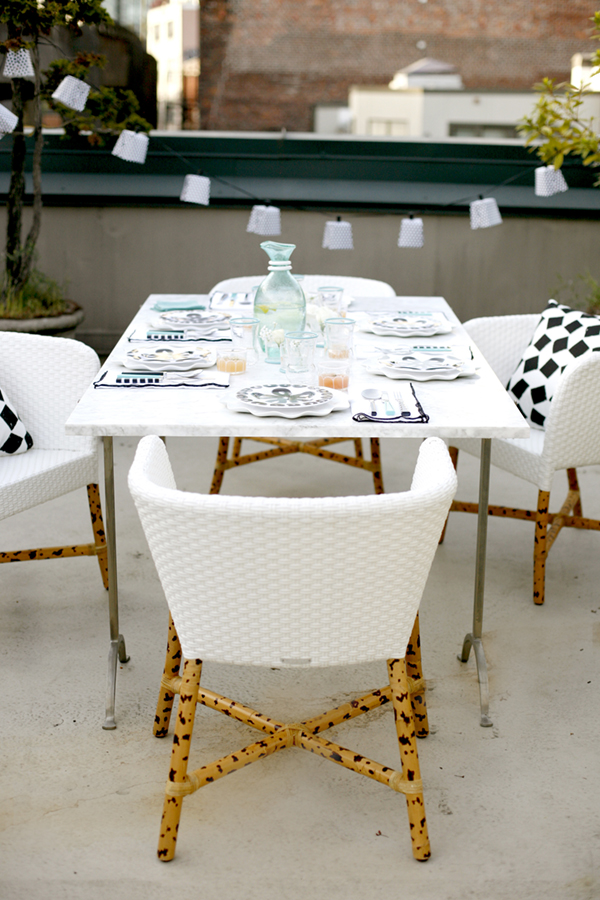 Dining outside is so refreshingly casual, a table like this is easy to put together. I pulled all of my favorite pieces from the current and past Paola Navone collections – throwing white blooms into some of the glassware and layering some of the more simple pieces with the oversized ones for a fun mix.
We also threw together some casual seafood fare that any Southern Italian would be proud of – pan-seared calamari and even some sardines as appetizers, topped off with an insanely refreshing cocktail – all of which I'll be sharing with you soon!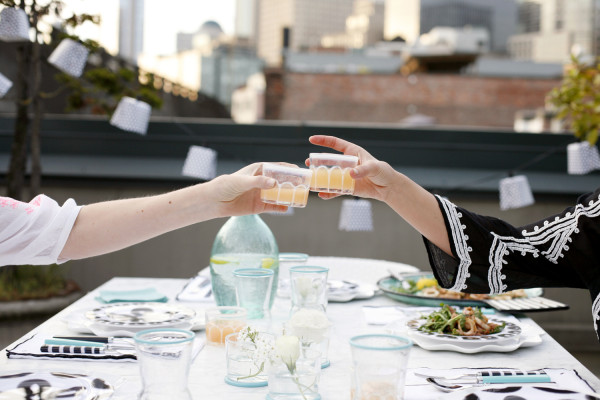 Of course, the best part of the evening is when the sun finally begins to set and that golden glow settles over the city as the lights in the buildings create a twinkling skyline. These are my favorite nights – the ones spent talking in the darkness, when it stays warm late into the evening, granting permission to stay up way too late sharing a meal, and many memories, with good friends.
The best part? My friends, summer has just begun. I can't wait to create many many memories on this rooftop in the coming months! I'm so thrilled and thankful to have this special little spot in the city to call my own.
To create your own little urban sanctuary, check out the Paola Navone collection from Crate & Barrel and stay tuned for all the recipes for the dishes and drinks in this post!
photography by belathée // styling by cassandra lavalle for coco+kelley // tunic by zara